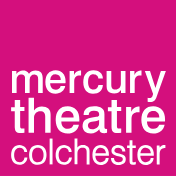 I was thrilled to be a finalist for the inaugural Mercury/Weinberger Playwriting Award with my play BETWEEN THE RIOT AND THE RAINBOW. Mercury Theatre Colchester & Josef Weinberger Ltd joined forces to discover the very best and most diverse new British theatre writing talent from across. The prize is for previously unperformed plays that have the ambition, appeal, and theatricality to fill larger theatres, with the desire of getting the very best new work published and into production over the next few years.
Most recently I've been a writer on attachment at Oxford Playhouse for 2017-2018. This recently culminated in a showcase performance of my most recent work for theatre as part of Offbeat Festival 2018. It's working title is GIVE ME ONE MOMENT IN TIME and it's a seize the moment project both in theme and approach. It's written around the piano and I've written it whilst learning to play the piano. Yep. I did that. There are some exciting developments on this that I'll announce soon.
An early draft of this play was selected to have a staged reading at PlayWROUGHT Festival of New Writing at The Arcola Theatre. I'm currently looking at options to house a full production.
SYNOPSIS: Adam is accused of committing a crime whilst under the influence of drugs, he doesn't remember either. Through a series of confrontations he meets his shame privately, legally, in his family and ultimately in the middle of the night standing naked on a station platform. A drama about reclaiming what we've lost, the lengths we have to go to reach people, and questions whether we can ever escape a legacy of shame?
Writing this play gave me a working understanding of how important change is to characters in drama. I've learned how to thread personal politics, image architecture and story together. I am also immensely (and shamelessly) proud of this piece of work.
Examples of organisations my work has been shortlisted, or performed, with.
I won a place on the BAFTA Rocliffe Forum List for my sitcom FAIRIES: A bittersweet sitcom about three brothers who dress up as pink fairies to save their dying dad's dying kissogram business.
The BAFTA Rocliffe New Writing Competition is a platform for aspiring screenwriters to have their work showcased and take their writing career to the next level. Following a blind judging process, selected script extracts are performed by a professional cast to an audience of producers, development executives, directors, actors and literary agents, aiming to give a platform to emerging writing talent from across the country.
LIFE SUPPORT is about ego and learning the hard way. It's about special educational needs provision in primary schools. It's also an homage 90s Brit Pop.
It tells the story of Keith, who arrives in the Big Smoke seeking post-university infamy and claim his place as a musical icon. The only problem being that he can't play any instruments. So, instead, to assuage his landlady he is sent to work, reluctantly and rebelliously, as a "vigilante educational reformist". He joins a primary school as a special needs teaching assistant, alongside the eternally enthusiastic if beleaguered Lucy, Pete and Damien. Songs from his concept album, Life Support, play out against his learning curve, where a culture of failure is turned into an appreciation of those who compensate us for what we are not.
This project has been on an interesting journey. It started its life as a ramshackle scratch as part of the Hatch Festival for new work at York Theatre Royal, based on the success of its first outing we were invited to return for a second time. Then, a protracted development process with producers and Paul Robinson (formerly AD of Theatre503, now Stephen Joseph Theatre) And, since writing it, the composer has become a priest (true story). I recently revisited the script, and the songs, and I feel deeply that this show hasn't had the life it ought to have yet. Maybe you're reading this and discovering this is the precise project you are looking for?
Anyhow, this project was so much fun to write. I truly learnt the art of re-writing. I had so many things to say; it is a play with songs, and I was younger as a writer when I started, so have spent a lot of time in re-draft separating what serves the story and what serves my ego (a valuable lesson).
Listen to a demo of some of the tracks from Life Support below...
"Boy what got"
"Massive Hands"
"You'll never hear the Alphabet Song in the same way again, or hear someone speak Spanish without thinking of the Gigantic Man With Massive Hands – and although they're funny, there's a sadness just under the surface which lingers the same way."
Dan Beam, The Press, York
"Inner State"
"Rent Run"
This was originally a commission to write a play to tour rural venues. Due to its success, the Arts Council funded an 8-week UK national tour of theatres. Then, the Writers Guild of Great Britain selected this play to be part of the long list for its Best Play Award. That was nice.
As a writing process this taught me a lot about dramatic action, attention to detail and quality control. We worked with a dramaturg (the tenacious Kevin Dyer) and it was an exhaustively detailed learning process that I owe a lot to. It was where I began to truly understand how character relationships define the action of any story.
A dark comic tale about the search for an identity and place in a city that forgets people. TURF was the culmination of the Bush Theatre's Halo Project; four months of collaboration between its young starts, bushfutures [then] director Anthea Williams and playwright Simon Vinnicombe, under the artistic direction of Josie Rourke.
This was my first experience developing a new play, with a professional playwright, for production. A project I contributed to as a writer and as an actor. It taught me how to write a play, and what kind of plays I want to make. It's a gutsy play about real people who are trying to connect at the intersection of class, gender, race and sexual identity. These themes resonate through my work today.
Back in the day I was the artistic director of Catapulting Cocoon: an arts collective that I founded. We were a rabble of artistic souls uniting to create opportunities for ourselves to make the kind of work we wanted to make. Our artistic philosophy was that we were providing the circumstances for nurturing talent whilst also propelling the artists forward. We dedicated our time to unique and unusual collaborations from artists across different platforms, as evidenced in this little relic from the archives (below). I may just be including this for posterity, but to me it's a nice reminder of that grass roots entrepreneurialism and fearless creativity that is the foundation of all of my work today.